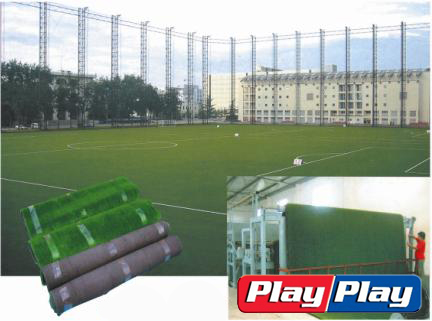 Basis in a variety of surface mount, basic quality and less demanding, not afraid of cracking, delamination of the worry-free foam, is simple and the economy.
Artificial turf maintenance is simple, low maintenance cost, simply rinse with water to remove dirt, and does not fade with no deformation and so on.
The overall layout of the artificial turf stadium appearance, the use of high life of up to 8 years, and the maintenance of durable resistance can be sustained all-weather use.
Artificial turf environmentally friendly materials, construction products, fixed and relatively short duration, quality and easy to grasp, simple acceptance.
Both artificial turf and no noise, vibration, safe, flexible, flame-retardant performance and good features, suitable for use in schools, is now the best activities, training, competition and other venues.
Artificial turf to take the concept of safety and environmental protection in order to avoid injury as the leading, which provides sufficient cushioning to reduce the general hard on the feet can cause damage, so you did not triggered by a variety of space concerns.
Bonding with the surface layer is not the basis. Face layer of the expiration period of use can only replace the surface layer, re-investment and low cost.
Lawn space with a special high temperature high proportion of quartz sand, so that students have opportunities close to the soil to the environment and the body is not dirty, replacing all the trouble to clean.
Direct the preparation crossed the lawn, do not need to frequently crossed and distress, maintenance is easy, almost no follow-up maintenance costs.